2022 marks 100 years since the first ever Government report into mental health in our Armed Forces - the official declaration that the invisible scars of war are very real.
Soldiers suffering with 'shell-shock' and 'war neurosis' as it was then labelled, ran into their hundreds of thousands after WW1, leaving many debilitated by what we now know as Post Traumatic Stress Disorder.
A century later, PTSD continues to impact almost a fifth of those who have seen combat service and devastate not only their lives, but the lives of those close to them.
The Veterans' Foundation is marking the milestone with its #PTSD100 campaign to raise awareness of mental health; fund projects nationwide that support those battling PTSD; and to help pioneer research into the trauma of service.
A remarkable film has also been created by the Veterans' Foundation showing the powerful and emotional effects of PTSD on members of our Armed Forces.
David Shaw, founder and CEO of the Veterans' Foundation, said: "Post Traumatic Stress Disorder is still one of the biggest issues facing our service personnel, especially in those who have seen active combat."
"The Veterans' Foundation is committed to making a difference through the #PTSD100 campaign in 2022, raising both awareness and funds for our Armed Forces veterans and operationally qualified seafarers who suffer with this debilitating mental illness," added David.
"From providing grants for treatment and funding important research, to supporting brilliant people doing extraordinary things to raise money for our veterans, the #PTSD100 campaign will actively help British veterans in need."
One in ten of our Armed Forces personnel today are seen by military healthcare for a mental health related reason and the recognition that mental trauma existed in the services officially began with the 1922 War Report.
However, it also reflected the seemingly-callous views of the time, pointing the finger at poor training, leadership and cowardice; "No soldier should be allowed to think that loss of nervous or mental control should provide an honourable avenue of escape from the battlefield."
Some witnesses interviewed for the report went further; "This latter (loss of self-control) must be looked on as a disgrace in any army which hopes to retain its efficiency." Brevet-Colonel J. G. Burnett – 1st Battalion Gordon Highlanders.
Although attitudes and opinions have changed and PTSD is a recognised mental health condition that requires dedicated therapy and treatment, there is still much to be done on the subject and this Veterans' Foundation campaign will help to provide vital support to veterans in need.
A variety of initiatives and challenges will fall under the #PTSD100 banner in 2022, all with the aim of raising £100,000 for British veterans who suffer with combat-related mental trauma.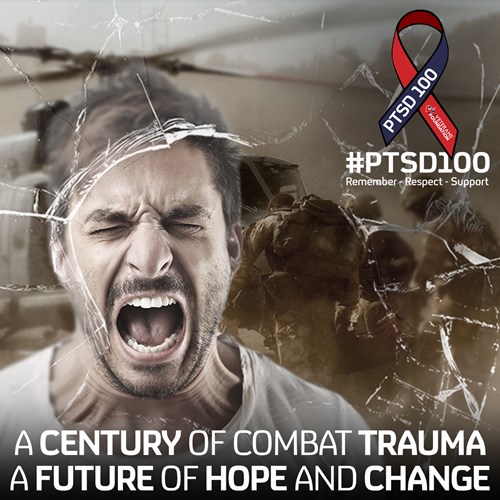 #PTSD100 Objectives & Challenges:
A commitment to provide ongoing financial support to the Contact Group (subject to T&Cs) – a body of charities dedicated to helping our armed forces and veterans battling mental health – providing a larger capacity for rapid assistance to those who need it. This initiative includes Combat Stress, Help For Heroes, Walking with the Wounded, PTSD Resolution and Icarus. It will be funded by the players of the Veterans' Lottery.
Co-funding research into a ground-breaking collaboration between King's College London, MAPS (Multidisciplinary Association of Psychedelic Studies in the US) and the NHS into new treatments for severe PTSD. The project is being led by the Supporting Wounded Veterans charity.
Jennevolve 12/12 – A 12-month marathon adventure by Major Jen Price to help raise £100,000 for mental health assistance for veterans in need. Jen, who retires from service this summer, has 12 challenges to complete in 2022 including climbing Kilimanjaro; Summitting the Matterhorn; cycling Land's End to John O'Groats; and skiing a marathon.
Web: https://www.veteransfoundation.org.uk/jennevolve/
Instagram: https://www.instagram.com/jennevolve/
TikTok: https://www.tiktok.com/@jennevolve
Donate: https://www.justgiving.com/fundraising/jennevolve1212
The publication of the #PTSD100 'Pick Me Up' book of inspiration and hope featuring quotes chosen by leading figures and achievers from the military and civilian communities. Launch date TBC.
The launch of #PTSD100 Ribbon and supporter merchandise, including 'Brodie' calligram imagery – 100% of profits dedicated to #PTSD100.