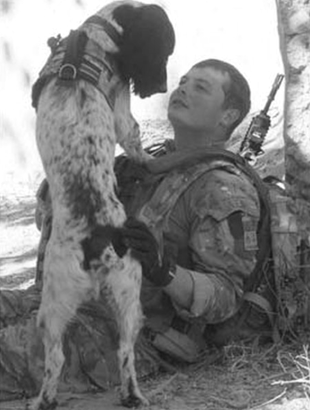 Liam Tasker (Lance Corporal)
Died: 01/03/2011
Lance Corporal Tasker deployed to Afghanistan on 8 September 2010 as part of the 1st Military Working Dog Regiment. Having trained as an Arms and Explosives Search dog handler, he was attached to the 1st Battalion Irish Guards on 19 February 2011.
On 1 March 2011, Lance Corporal Tasker was taking part in a patrol with his dog, Theo, when they were engaged by small arms fire, during which Lance Corporal Tasker was struck and died from the injuries he sustained. Sadly, on returning to Camp Bastion, Theo suffered a seizure and died.
Lance Corporal Tasker was born on 11 December 1984 in Kirkcaldy, Fife, Scotland. He joined the Army in 2001 and was originally a vehicle mechanic in the Royal Electrical and Mechanical Engineers. His passion though was always dogs which led to his transfer to the Royal Army Veterinary Corps (RAVC) in 2007.
A trainer who had a natural empathy with dogs, he was a rising star within the Dog Training Group. In 2010 he was posted to 104 Military Working Dog Squadron, St George's Barracks, North Luffenham, Rutland, part of the 1st Military Working Dog Regiment.
From the onset of his operational tour in Afghanistan, he provided strong search and clearance capability for units across Helmand province. In a short period of time he had significant success locating improvised explosive devices, weapons and bomb-making equipment. His success undoubtedly saved many lives.
Lance Corporal Tasker was an outgoing, jovial and friendly character. He was extremely popular within his squadron. His easy-going, confident approach belied a consummate professional. He always strived to be the best, and within the squadron he was one of the best.
He can never be replaced and will always be remembered. He was a fun, friendly, talkative character who always wanted the best from his dog, his troops, and himself.
Lance Corporal Tasker's family said:
There are three words that best describe Liam, larger than life. He lit up every room he walked into with his cheeky smile. He was the best son, grandson, brother and friend you could ever wish to meet. He died a hero doing a job he was immensely passionate about. We are so proud of him and everything he's achieved. Words can't describe how sorely he will be missed. Sleep well Liam, you are forever in our hearts.

 

Lieutenant Colonel David Thorpe, Commanding Officer, 1st Military Working Dog Regiment, said:

It is a challenge to put into words what Lance Corporal Liam Tasker meant to those he worked with. To his friends he was a mate who could put a smile on your face; he was that man who you wanted around and who you wanted to spend time with.

To the 1st Military Working Dog Regiment he was a strong, reliable soldier and an expert 'Dog Man'. He genuinely loved the dogs he worked with and was always able to get the best out of them. He was one of the highly qualified dog trainers in Afghanistan and had spent time at our training establishment making sure that the new soldiers coming out of training had the best possible skills and experience imparted into them.

Epitomising the hardworking, determined and ambitious nature of our very best soldiers, he wanted to go to Afghanistan. He wanted to ply his trade in the harshest of environments, to be outside of his comfort zone, and he wanted to be successful. He was. The work he did in his five months in Afghanistan saved countless lives, of that I have no doubt. He flew the Royal Army Veterinary Corps' flag high; he led from the front and made us proud.

Lance Corporal Tasker wanted to go far in the Army and he had all of the attributes needed to be a career soldier, with capacity to spare. His ability to command whilst maintaining his sense of humour had already marked him out as one to watch. His loss has hurt every single one of us today. He will be missed. He will not be forgotten.

 
Light a candle in memory of
Liam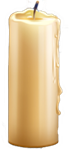 Click here to light a candle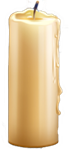 Karina & Stanley & Fox-@ The Dog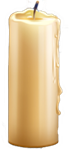 Andrea Crossman
Tributes